NEWS
BICENTENNIAL OF THE GREEK REVOLUTION (1821-2021)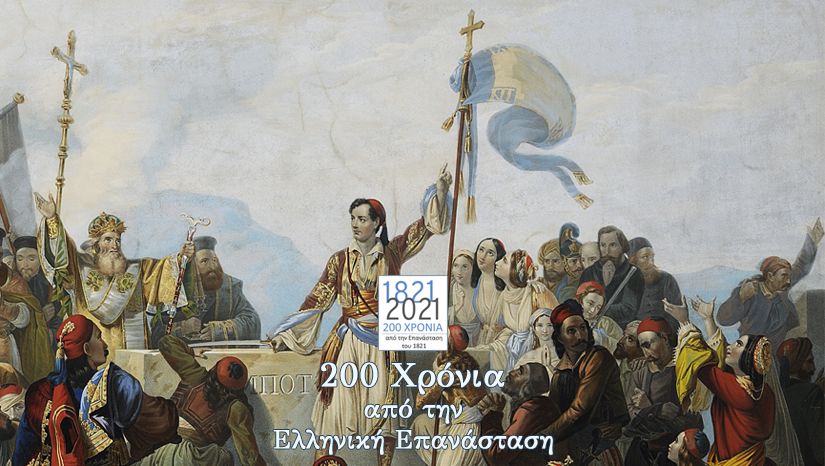 «Lord Byron's oath at the tomb of Markos Botsaris», painting by Ludovico Liparini, 1850, Benaki Museum, Αthens.
In 2021 we celebrate the Bicentennial of the Greek Revolution (1821-2021). The National and Kapodistrian University of Athens (N.K.U.A.) is organizing a series of events in order to highlight the importance of the Revolution as a Greek and international event, but also to rethink on the historical evolution of the Greek state.
Getting involved with the celebration is not only connected with the dominant position of our University in the spiritual and cultural map of the country, but it is also connected with its overall history and offer. The foundation of the University was one of the revolutionaries' dreams that came true in 1837. It was the first university in Southeastern Europe and the only Greek Institution of Higher Education until the 1920s. Many fighters of the Revolution, donors, professors etc., as well as Greeks of the Diaspora, were actively involved in its foundation and thereafter operation.
The University contributed to the maintenance of the historical memory through its public presence (statues, anniversary celebrations, poetry competitions, etc.), as well as with its scientific work (teaching work, postgraduate studies, research programs, etc.). The Senate of the N.K.U.A., wishing to contribute to the planning of the celebration of the Bicentennial of the Greek Revolution, has set up a Committee under the Rector of the University, Professor Meletios-Athanasios K. Dimopoulos. The members of the Committee are prominent scientists, professors at N.K.U.A.: Nikos K. Alivizatos, Ioannis Vrotsos, Nassia Yakovaki, Maria Efthymiou, Dimitris Karadimas, Anna Karakatsouli, Vangelis Karamanolakis, Olga Katsiardi-Hering, Paschalis M. Kitromilides, Paraskevas Konortas, Kostas Kostis, Lambros Liavas, Antonis Makrydimitris, Napoleon Maravegias, Haris Bambounis, Yannis Xourias, Ioannis Panagiotopoulos, Anastasia Papadia-Lala, Dimitris Pavlopoulos, Vasso Seirinidou, Anna Tambaki, Evanthis Hatzivasileiou.
For further infomation on International Conference, 12-13 March 2021 please visit
https://en.uoa.gr/announcements_and_events/view_event/bicentennial_of_the_greek_revolution_1821_2021_the_greek_revolution_in_the_age_of_revolutions_177/
Call for Papers: 72nd Conference of the International Commission for the History of Representative and Parliamentary Institutions (ICHRPI) Athens, Greece 20-23 October 2021