NEWS
TUTORIAL ON "MULTIPLE MYELOMA AND OTHER PLASMA CELL NEOPLASMS"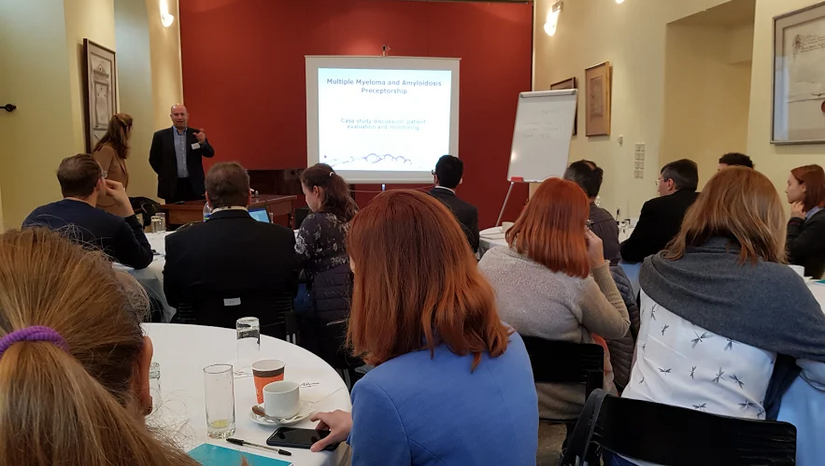 The Plasma Cell Dyscrasia Unit of the Department of Clinical Therapeutics of the National and Kapodistrian University of Athens (NKUA) organized tutorial on "Multiple Myeloma and Other Plasma Cell Neoplasms" on Friday 2nd and on Saturday 3rd of March 2018 at the Athens University History Museum.
The participants included 20 Hematologists-Oncologists from 7 European countries (15), Canada (1) and Israel (4). The lectures were delivered by the NKUA faculty, Assoc. Prof. Evangelos Terpos, Assoc. Prof. Efstathios Kastritis, Assoc. Prof. Flora Zagouri, Assis. Prof. Maria Gavriatopoulou and the Radiologist Dr Sofia Fontara.
The speakers presented the latest data on the diagnosis, prognosis and treatment of Plasma Cell Neoplasms, especially of Multiple Myeloma, Waldenstrom's Macroglobulinemia and AL Amyloidosis. The participants appreciated high scientific levels of presentations and they had an active discussion with members of the faculty regarding interesting clinical cases. They enjoyed the hospitality in an historical building in the center of Athens, they visited the rooms and the exhibits of the NKUA History Museum and they adored the view of the museum balcony.